Top 10 celebrity perfumes:
On Christmas day, my family went out to celebrate the birthday of my father's elder sister. Yes, she was born on the 25th of December and since I was born (some 22 years ago), my extended family had taken it as a tradition to visit her and celebrate Christmas with her on her birthday. Luckily for her, she married a Christian and somehow converted to the religion. Quick reminder, I am a Christian as you can see from my about me page, but my father's family are Muslims.  She from a Muslim home married a Christian and she had to convert to Christianity.
Anyways, her son, my cousin came back from Canada for a short visit. He left for his double master's degree in 2012, and since then after the degrees, he worked in KPMG Canada, Deloitte Canada and OMERS (Ontario Municipal Employees Retirement System), one of Canada's leading pension funds with over $72 billion in net assets. So he came back home and got us some celebrity perfumes, David Beckham for me, meow by Katy Perry for my sister and Celine Dion by Celine Dion.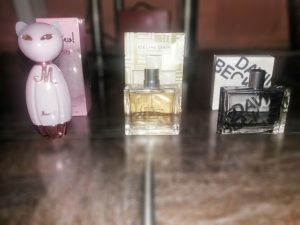 With this Christmas gift, I thought to check out the top 10 celebrity perfumes for my esteemed readers. Here it goes: