LG G5 Analysis
There is a long list of LG G series phones, and somehow, after release, they always find their way to the top, becoming LG's flagship phone during the release period. The latest model, LG G5 is out, and we want to analyze if it is truly a value for money purchase. I hope this pose produces useful insights about the phone to you (yes I am pointing at you), my esteemed reader.

Like the previous review of Samsung Galaxy S7 / S7 edge, we will be taking a look at the design of the phone, progress to the display, memory, platform and performance, and then round it off with the battery life. What are we waiting for? Let's fire then.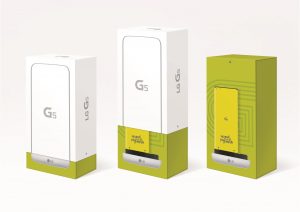 Design & Body
The LG G5 weighs 159 grams, heavier than the Samsung S7 which weighs 152 grams. In all both are not heavy at all, because my current phone, a Samsung J5 weighs 146 grams and it is as light as a feather. Moving on to the dimensions, the LG G5 has a dimension of 49.4 x 73.9 x 7.7 mm (5.88 x 2.91 x 0.30 in) with a corning Gorilla glass 4 serving as its protection. LG brought an upgrade in its new flagship by including a metal body as opposed the plastic body of its predecessor. Although it has a self-acclaimed microdized metal, it still has a plastic like feeling.
Moving on from that, we proceed to placements of buttons. The LG G5 has ditched the constant placement of volume buttons at the back of the phone as seen in its predecessors. Its new placement is now at the back of the phone although the phone lock / power button still remains at the back. With regard to the sim functionality, the LG G5  has two options, the single sim (nano sim) option and the Dual Sim (Nano-SIM, dual standby option). The phone has a nano sim tray present on either side.
The LG G5 like most sophisticated phones also includes a finger print scanner which serves as extra security measure to the phone. The scanners are mounted at the back and reported to be very sensitive. This might be a problem for someone like me who keeps my phone in my tight jeans pocket, which makes it liable to the occasional rubbing of the phone in my pocket which leads to incorrect fingerprint scanning attempts. This is a major let down on the LG G5 as major competitors such as Samsung S7 have a front facing fingerprint scanner.
The G5 has dual cameras placed just above the lock or power button with a Led Flash and laser autofocus resting in-between. This is great news for photo enthusiasts like me, as the back facing cameras are 16 Mega pixel and  8 Mega pixel with Lase autofocus and Optical Image Stabilization (OIS)and LED Flash. As said earlier, this is a massive phone for phone enthusiasts like me. I bought my current phone, Samsung J5, chiefly because of the front facing led flash, so this s definitely a phone on my radar.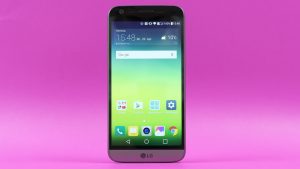 Display
The LG G5 reduced the size of the screen by 0.2 inches, down from a previous 5.5 inches to 5.3 inches. The current LG flagship, LG G5, measures a  72.1% screen to body ratio and has an IPS LCD capacitive touchscreen. As discussed under Samsung S7, there is a paradigm shift from LCD screens to Amoled screens, but LG has not caught up to the latest trend.  The LCD screen is also multi touch and has a resolution of 1440 X 2560 pixels.
Memory
The LG G5  like the Samsung S7 has an impressive ram of 4GB, meaning that you can multi task as you wish without the phone lagging or frustrating you by hanging. The phone a single ROMof 32 GB as opposed to the Samsung S7 with 32GB and 64GB options. The LG G5 allows for a dual memory card through its SIM 2 slot and this makes available a combined total of 512GB memory card split into 256GB for each Micro SD slot. This is massive, it has more storage options than some high end laptops.
Platform & Performance
The Samsung S7 runs on default Android OS V 6.0.1 (marshmallow) which is upgradable to V 7.0 (Nougat). LG's flagship phone like its Samsung counterparts respectively has a Qualcomm MSM8996 Snapdragon 820 chipset. The Qualcomm MM8996 Snapdragon 820 comes with 4 cores, two running at 2.15GHz and the other two running at 1.6GHz.
This is a major let down compared to its closest rival, Samsung S7 with an octa core CPU with four cores running 2.6GHz and the other four running at 1.59GHz.
Camera
The LG G5 is a beast when it comes to Cameras, as said earlier , it has dual back facing cameras with 16 Mega Pixel  (29mm, f/1.8)  and 8 megapixel  (12mm, f/2.4) respectively with laser autofocus, Optical Image Stabilization ("OIS") and Led Flash. The phone also has a front facing camera of 8 Megapixel with an available f/2.0 aperture and  1/4″ sensor size with a 1.12 µm pixel size
In terms of video recording, the Samsung Galaxy S7 is a force to reckon with, boasting video frames of  2160p@30fps and 1080p@60fps. Note, as stated earlier, FPS means frames per second, and it is the rate at which an imaging device displays consecutive images. An fps of 30 and 60  is really good for a mobile device.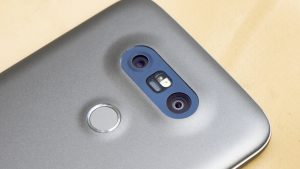 Battery Life  
Finally, a modern day phone with removable battery…hallelujah!. This is a major plus to me when searching for phones because I prefer mobile phones with removable battery as I can easily change the batteries when they start dying out as opposed phones without removable batteries which would need to be completely replaced as soon as the phones start dying out.
The battery has a capacity of 2800 mAh, even though it is not as great as the Samsung S7 3,000mAh battery, I still prefer this because of the singular factor of removability..lol.. Anyways, you should expect a full day of moderate use with this battery, but be warned, it is a typical charge everynight battery.
The removable battery and cameras have definitely caught my attention and have made LG G5  top contenders for my replacement phone hopefully in 4th quarter of 2017. A detraction though is the placement of the lock/ on switch at the back of the phone as this takes away from the ease of using the phone. No matter, this is very minor and would not greatly influence my decision.  We would see how my goal turns out, and comparison with other phones to make my final decision.
You may like this: