Dell XPS 13 Review

Dell XPS 13 is a unique ultra-book running windows 10. It was manufactured in the year 2015 and since then it has consistently ranked the top 10 laptops on this modern era.  The amazing thing about this machine of a laptop is its portability, and one thing I love in a laptop is its portability. My colleague, a fellow analyst narrated his experience of having to fly economy (Yes, we fly economy, only our Directors or Managing Directors fly business class or First class). As I was saying, he was on the plane which was getting ready to lift off and he had an impending deliverable on a financial model which the MD was hounding him for. So he had to bring out his very big laptop to finish up the model and send same to the client for review.

Luckily for him, there was a 15 minute delay, which granted him just enough time to finish up the model which was almost at completion and send to the client for his input or his comments. As he was doing this, they were complaints from his sit partner because his laptop was just taking a lot of space and his seat partners were feeling uncomfortable. On returning to the office, he was ranting on how we needed portable laptops to uphold our status as investment bankers, and I agree with him.
Back to the gist of the day, this powerful laptop offers a 13 inch screen with premium battery life, performance and comfort all at a steal of about US$800. Let's look at the complete features of the Dell XPS 13 and why I have it on my radar.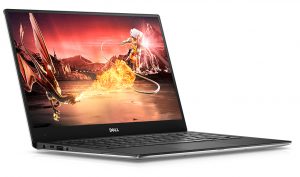 7-3.5GHz Dual-core Intel Core i7-7500U (Core i5 available)
8GB DDR4 RAM (16GB option available)
Intel HD Graphics 620
256GB PCIE SSD (128GB, 512GB and 1TB available)
2x USB 3, 1x USB 3.1/Thunderbolt 3 combination, 3.5mm headset jack, SD card slot
29kg (Full HD model 1.2kg)
3-inch QHD+ 3,200×1,800-pixel touch screen
| | | |
| --- | --- | --- |
| Pros | | Cons |
| ·         Portable and attractive design | | ·         Awkward placement of webcam |
| ·         Premium battery life | | |
| ·         Exceptional CPU performance | | |
| ·         Generous number of ports | | |
| | | |
Design
The Dell XPS has a clean design with an infinity touch display bringing out Dell's trademark infinity edge bezel that gives its brad that unique look and feel. In addition to this, the Dells XPS 13 also has an ETE corning gorilla glass. Brilliant isn't it? It surely is. The Dell XPS 13 is available in silver and rose gold, and trust me, it is beautiful in any of the two colours.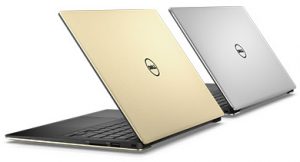 The Dell XPS 13 comes with a variety of useful ports, including 3 USB 3.0 ports, a headset jack, an SD Card reader and a USB type c port with thunderbolt support. With the thunderbolt support you can connect two 4k monitors at once. This might seem great, but compared to its closest competitors, the Dell XPS 13 underperforms in thunderbolt availability as only one port is available whereas high end MacBook pro and HP's flagship, HP Spectre, have at least 3 extra thunderbolt 3 ports.
A major let down though in this laptop is the placement of the webcam. It is placed at the bottom left of the screen. Pretty weird though, and this would make video chatting a uphill task. But no matter, that is just one of the few blemishes, and as far as I am concerned the positive side far outweighs the negative
Display
The Dell comes with display options that are great for the movie savvy, the options are a  full-HD, non-touch –screen model with a highest resolution of 1920 x 1080  for its basic package or for an upgrade, you can get a higher resolution of 3200 x 1800 for about US$1600.
Performance and Battery Life
A standout factor as mentioned earlier is the battery life of Dell XPS 13. The dell XPS 13 can work for 10 to 11 hours with moderate use unlike my current laptop, Lenovo Idea pad 100,  that maxes out after about 4 to 5hours of moderate use. With high usage, for example for streaming movies of playing games, you should expect about 5 to 6 hours of use without charging. Pretty good right? Yes it is.
You may like this: