Investment Banking Job
Hello people, how has your day been? Today we would be taking up a slightly different topic. I would be looking at my own career and try to advise those that have an interest in my career  line.  From my about page, you may know that I am a 22 year old young man that has previously worked in a large pension fund in Nigeria and currently working at a bulge bracket Investment banking group with total assets of c.N190 billion. What you may not know is that entering into the Investment Banking industry for a career is nearly impossible in Nigeria except through connections or by God's favour; mine was the latter. Please sit back, relax anddd enjoy as I provide you with background information and more details of how I was able to break into the Investment Banking industry.

As previously established, getting a career in investment banking in Nigeria is an arduous process. It is usually the elite students who schooled abroad that get positions in Investment banks, and it is mostly always through recommendations by internal staff. So if you are sending out your C.V to Investment banks' email addresses in Nigeria, you might just be wasting your time as it rarely makes it past the bin. So three takeaways from the above, you need to network well, undertake fasting and prayers to break into Investment Banking in Nigeria or do something that makes you stand out from the crowd. Sometimes you may need a combination of both, for example in a highly competitive Investment bank, you will need connections as well as the standout factor before you are even called for an interview not to talk of getting the job.
So how did I go about mine? It was a combination of two of the takeaways mentioned, namely by prayer and fasting (lol.. it is true o, if you see how thin I was eehn) and also the standout factor. When I started my blog, I undertook independent research on top companies like Mcdonalds, Pepsi co and Deutsche bank, and I happily shared my work on linkedin. Uknown to me they were top executives silently watching. Then after a while I got a comment on my post and an invite from a partner at an investment research company in Uk. Then the owner of a group with thriving members interested in franchise opportunities shared my McDonalds post.
Little did I know that it was just a tip of the iceberg. Then after some months, knowledge about my website got to a senior executive member of a commercial bank with an Investment banking division, and on hearing about my interest in investment research or investment banking, she forwarded my C.V to the HR of the Investment Bank. After some hours I got a mail from the head of human resources inviting me for an interview with a director at the bank the following day.
I was unprepared and feeling tense, and unfortunately for me, out of all the days in the world to choose, my internet decided not go that very day. I had to settle for operamini on my cousin's phone.  Luckily for me, I came across a question and answer section on streetsofwall.com that proved to be really helpful. This is the link IB Interview Prep. So, there I was, just some few hours away from my interview with the director. The lord is my strength, I thought to myself.
Alas, the day and hour for the interview came. I got to their office anxious and restless, and hoping and praying to God that I find favour in the eyes of the director. Then he appeared and took me to his office. There and then, he asked me some basic questions, brief introduction about myself, why investment banking, what project finance is and so on. In the middle of all this, I was able to chip in my blog, and he immediately switched on his laptop to visit the link. On getting to the website, he read some pages and was captivated by the whole concept and my idea of developing an educational blog. It was quite evident that he was impressed with it, and immediately he called the associate I would be working with later on and the Managing Director to interview me that same day. During my interview with the associate, she also came across my blog in my cv, and she was impressed also not only by the idea but because she too was a blogger, but unlike me, she had a fashion blog, so she was very impressed mine was educational.
Then I had a final chat with the Managing Director, and he told me that my previous interviewers seemed very impressed with me, that why do I think they are impressed with me. I told him because they saw the drive and hunger in me to succeed as an investment banker. Then he progressed with asking me questions from my cv, and looked pretty impressed at the mention of my blog. My final chat was then with the Head of human resources. So I had 4 different interviews on the same day. I was physically and mentally exhausted.
Fast forward the following day, I was offered the job and told to come pick up my letter a day after. From interview to offer took only 3 days and it was due to the impression they had about me after checking out my blog.
The morale of the story is that you need to be creative and look for ways you can showcase your work to potential employers instead of waiting around for them to miraculously locate you. If you are up for the challenge, setting up a blog is a good way to showcase your skillset to potential investors.
How do you set up a blog?
Setting up a blog is easier than learning abc. All you need are a domain name, hosting provider and wordpress, and then the rest is history. I would go through the step by step process briefly below.
1) Domain Name registration: The first thing to do is to register a custom domain. This usually costs between 8 to 12 dollars with some domain name registrars providing as much as 70% discounts on first time domain registrations. I use namecheap to manage all my domains, and their renewal rate isn't bad at US$10 – 11 per annum. I recommend you get a dedicated domain provider for all your domains as opposed getting a free domain from your hosting provider and having to renew the domain with the hosting provider. The result is that most times, it is more expensive to renew with an hosting provider than a dedicated domain registrar like namecheap.
2) Select a hosting provider and purchase a suitable hosting package: Yes, this is a very important step in the process. You want a host that is reliable and responsive too customers complaints. How negative would it have been if the director had navigated to my website only to see a 503 error of some sort or a database not establishing connection error? I am guessing that might have been the end of my interview. You see that is why you need a very reliable hosting provider with a guaranteed uptime of 99.99% (lets be realistic, the uptime cant always be 100% due to external factors beyond the hosting provider's control. Let's take a look at some recommended reliable hosts you can kick off with.
Recommended Hosting Providers
SiteGround
SiteGround has a managed wordpress hosting on all plans, and plans range from shared web hosting to cloud hosting and dedicated hosting. As a start up website I recommend their shared hosting plan in order to save money and avoid wastage of resources.
I have been hosting this blog on site ground for almost a year now and I have no complaints. My site is super fast and I have rarely seen any downtime. Besides, if you are a newbie coming from a previous host without the knowledge of how to migrate to a new host, SiteGround offers free migration to their platform. Such convenience, you just hit them up at support and within an hour you get a swift response. Yeah, that reminds me, their support is also top notch.
At a price of US$3.95 per month, SiteGround is a steal. Beware though, for that price, you need to prepay for 12 months. That's what I did. Another positive thing I forgot to mention is that SiteGround offers daily backups and there are no weird setup costs when purchasing the hosting package.
Bluehost
Bluehost is a great hosting provider also, I have a close friend using it on her fashion blog and she has visitors in the thousands daily. Yes, she runs a wordpress blog, and blue host comes with a one click installer for wordpress. This means you don't need to know all the technical jargons before kicking off with your blog.
Bluehost is part of a massive internet conglomerate, Endurance International Group. Bluehost provides hosting services ranging from shared hosting to Virtual Private Servers (VPS) and Dedicated hosting to over 2million domains. Bluehost shared hosting package starts at $3.49 per month (a big steal right for such a host with a great track record), but a caveat is that to get the package at that price, you have to prepay for 36 months. The positive thing is that you can upgrade to a bigger plan if your site grows quickly by just paying the difference or in case of cancellation, Bluehost will rebate the remaining amount.
3) Install wordpress: This is the final piece of the puzzle. If you choose any of the above mentioned hosts, the installation of wordpress can be done for you without moving a muscle. For example to install wordpress using Siteground one click , you just need to follow this steps:
Step 1: login to SiteGround interface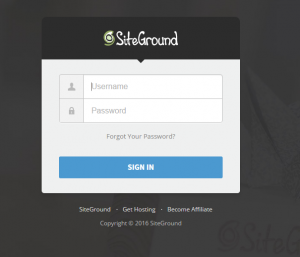 Step 2: Navigate to my account tab: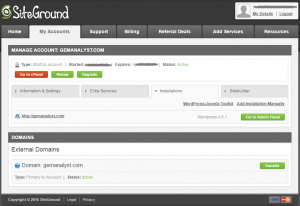 Step 3: login to your cpanel
Step 4: Click on wordpress in the Auto installer section of Cpanel. This redirects you to Softaculous wordpress install page.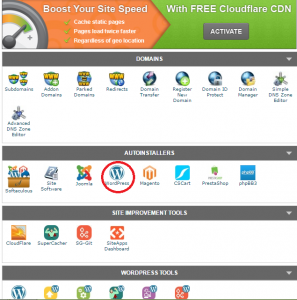 Step 5: In Softaculous, click on Install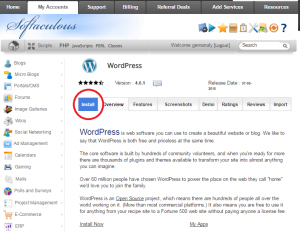 Step 6:  Fill in the necessary information and click on install at the end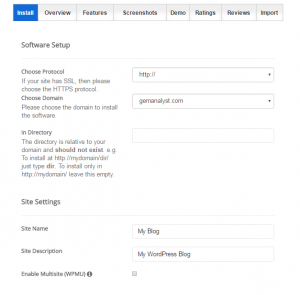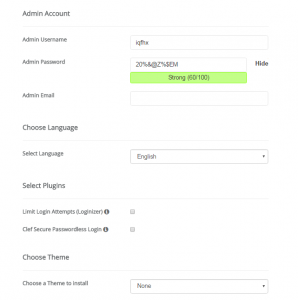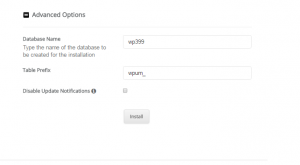 Step 6: After clicking on install, it takes only about a minute for Softaculous to install wordpress on the selected blog. Once the confirmation screen saying " Congratulations, the Software was installed successfully" appears, this means that you can proceed with login in to your admin interface by navigating to http://www.yourwebsite.com/admin.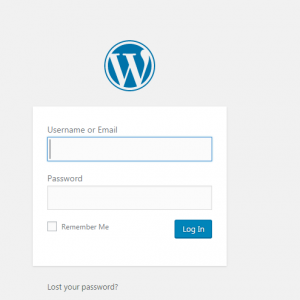 Simple enough isn't it? So guys, don't be afraid to showcase your work to the world. Who knows, you can use it to get your next big job.