What are price ceilings and floors in economics?
Wednesday 29th july 2015
Today is not my cds day, being the last week of the month of July. The cds day would be on friday. So I got prepared and went to the office. On getting there, most of my colleagues were surprised. They forgot that my cds for the last week of the month would be on Friday instead of wednesday.
So I waited long before doing anything because they didn't have work for me to do at the time. Almost at the end of the day, they brought a copious amount of deal tickets that needed typing. So I did this on time, and at around 5:20 left for my home.
When I got home, I read about price ceilings and floors and how government activities affect equilibrium price
Price floor and price ceiling
Price Ceiling
A price ceiling is an upper limit on the price which a seller can charge. If the price ceiling is below the equilibrium price, there will be a shortage, as producers would hoard goods, thereby resulting in an excess demand. A black market might then be created for the good where consumers pay ridiculously high prices to obtain the little available.
To reiterate, in a situation where a price ceiling is lower than the equilibrium price, quantity demanded (QD) exceeds the quantity supplied (QS), consumers are willing to pay Pws (Price with search costs) for the QS suppliers are willing to sell at the ceiling price PC.
Consumers are willing to expend effort with a value of Pws-pc in search activity to find scarce goods, and the reduction in quantity exchanged due to the price ceilings lead to a dead weight loss in efficiency
Diagram of price ceiling with dead weight loss.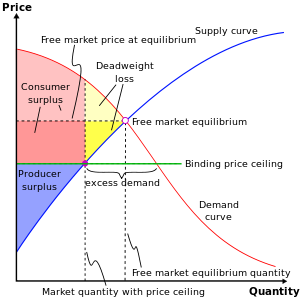 Price ceiling leads to the following in the long run
1) Suppliers may reduce the quality of the goods produced to a level commensurate with the ceiling price.
2) There may be discrimination in selling by suppliers
3) Unofficial black market for the product may ensue and products would be priced at an exorbitant rate.
4) Consumers may have to wait in long queues for them to make a purchase.
Price Floor
A price floor is a minimum price buyers can offer for a good or service or resource. In a situation where a price floor is below the equilibrium price, it will have no effect on equilibrium price and quantity. When the price floor is set above the equilibrium price, there would be excess supply at the floor price since the quantity supplied (QS) exceeds the quantity demanded (QD). There would be dead weight loss because the quantity transacted with the price floor QI is less than the efficient equilibrium quantity QD.
Diagram of price floor with dead weight loss
In the long run, price floors will lead consumers to buy less of a product. If the floor is above the equilibrium price and substitute other similar less expensive goods for them. For suppliers, goods subject to price floors would encourage them to channel materials into the production of such goods especially if the price floor is higher than the equilibrium price. But then again, then again they may not be able to sell all they produce.
Recommended Readings
Robert Pyndick., Daniel Rubinfield., Microeconomics (8th Edition)
Dominick Salvatore., Schaums outline of microeconomics
Paul Krugman., Robin wells., Microeconomics (4th edition)